Missouri Years
In the year 1911, Paul Richmond Hackett had just finished his
Junior year at Drury College in Springfield, MO. and went to work at the Y.M.C.A in St. Joesph, MO. During his Drury career Paul's accolades included the Drama Club,the Debate Club,the Glee Club,the Choral Club,the Oratorical Society, Delta Lambda Kappa, Kappa Alpha and the Y.M.C.A, where he served as President and as a Delegate to the Geneva Convention. From 1909 – 1911 Paul served as assistant Pastor at First Baptist Church of Springfield where he was the director of Missions. He preached at many of the county churches and performed weddings at First Baptist Church. His Drury year book quoted him as saying "I am the knottiest proposition in Springfield". Paul subsequently spent two years in St Joesph where he met Miss Martha Jane Lewis. "Mattie" as he always called her, worked at the "Y" and she fell head over heels in love with the Reverend Hackett. Paul and Mattie attended Savannah Ave. Baptist Church in St. Joesph.
May 12, 1913, Reverend Hackett applies to American Baptist Missionary Union and on his application asks to be sent to India.
July 15, 1913, appointed to the American Baptist Mission Press in Rangoon, Burma.
August 28, 1913 marries Miss Martha Jane Lewis.
September 23, 1913, sailed for their new life in Burma, where they would spend thirty years.
Rangoon
Reverend Hackett took his new post in Rangoon as a printer and head of the American Mission Press.  During the couples six years in Rangoon they welcomed two of four sons and in 1919 the family of four returned for the first time to Springfield, MO.
October 1915, Dr. William D. Hackett (Drury class of 1936)
January 1917, Dr. Herbert Lewis Hackett (Drury class of 1938)
May 1920 Reverend Hackett graduates from Drury College, Springfield, MO.
Thayetmyo to Moulmein   (Mawlamyine)
Upon their return to Burma the Hackett's were stationed in Thayetmyo, on the Irrawaddy River and in 1923 Reverend Hackett  was appointed Superintendent of Judson School, a school for boys K through high school  they moved to their permanent  home in Moulmein. He also served as Superintendent of the Leper Colony at  Moulmein,  Pastor of Ebenezer Baptist Church and worked in the local prison, Mrs. Hackett oversaw the local orphanage. Their family grew by two more sons.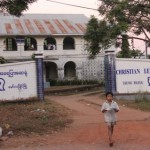 February 1926 Dr. Paul R. Hackett (Denison class of 1945)
February 1932 Dr. Earl R. Hackett (Drury class of 1954)
January 22, 1942 "We are leaving Moulmein, it is heartbreaking to leave our home and the work we love" Mrs. Hackett's diary. They would sail for India as WWII swept through Burma.
January 1943, Hanumakonda, India, the Reverend Paul Hackett dies.
The  Hackett family thanks First Baptist Church,  525 South Ave Springfield, MO. for over 40 years of support.  After her husbands death Mrs. Hackett returned  to Springfield, supported by friends and First Baptist she spent a long and gracious life.
Paul and Martha Jane had four sons, Dr. William D. Hackett (1915- 1990), Dr. Herbert L. Hackett (1917-1964), Dr. Paul R. Hackett (1926-1972), Dr. Earl R. Hackett (1932-) and sixteen grand children.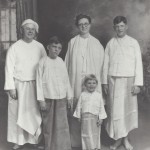 The Second Generation
The Revered, Dr. Wm. Hackett and the Reverend Marion Shaw Hackett.
William Dunn Hackett (1914-1990) was born in Rangoon, India He was the son of American Baptist missionaries ( Paul and Martha Jane Hackett). He attended the mission school until he was 14, then came to the United States where he finished his secondary education in Granville, Ohio. He graduated from Drury College in Springfield, Missouri. After graduation he spent one year as Superintendent of schools in Greenfield, Missouri. His parents were coming home on furlough in 1937 so he returned to Burma to replace his father as Principal of Judson Boys School in Moulmein.  While there, a delegation of Christians from the Taungthus (now Pa-Ohs) beseeched him to be a missionary to them.  He felt that he was not qualified at that time to serve them and he begged off so that he could return to the United  States to get a further education. He vowed to return to serve the Pa-oh, back in the states he enrolled at the Kennedy School of Missions at the Hartford Seminary.
Marian Shaw (1916-1988) was born in Springfield, MA and grew up in Belchertown, MA. After graduating from Northfield Seminary she went to the University of Massachusetts in Amherst. Following this she went to the Kennedy School of Religion at the Hartford Seminary where she did post-graduate work in Greek, linguistics, and New Testament. Partially deaf from childhood, she was blessed with a brilliant mind, Marion majored in English in college. Marion's language skills were phenomenal, she mastered Latin, German, and New Testament Greek. To fulfill her "calling"; she turned her attention to developing a New Testament in the Pa-O language. As she was well acquainted with the ancient texts of the bible and had a deep knowledge of the languages of those texts, she set out to translate the New Testament, hymns and literacy materials . The first book that she worked on was Acts, followed by Ephesians, Philippians, 1st and 2ndTimothy, John, Luke, and Mark.
1939 Happy Halloween, "Frankly what do you think of this party" said Bill, "Frankly, I think it's awful. Lets get out of here" said Marion. Bill and Marion spent the rest of that cold, foggy evening strolling around campus.
December 1940 Bill and Marion were married.
1941 Bill receives his MA degree cum laude from seminary, thesis: "Animism and the Christian Approach to Animism People."  Bill and Marion appointed by the American Foreign Mission Society to Burma.
September 1941 (28 years to the week after his parents) Bill and Marion sailed for Burma to meet Bills family. After Marion got to know her in-laws they traveled up country to begin their life together as missionaries.
December 1941 Arrive in Taunggyi, (Shan States), with WWII raging and the invasion of Burma on the horizon  their stay in Taunggyi is short lived.
January 1942 Japan invades Southern Burma.  Bill becomes an ambulance driver with the Flying Tigers and for Dr Gordon Seagraves refugee hospital.
January 13, 1942, Earl Hackett (9 years old) evacuated from Burma.
January 22, Rev Paul and Martha Jane Hackett evacuated.
April 1942 Bill and Marion are evacuated to  Kunming, China.
June 19,1942 An official memo from the American Baptist Foreign Mission Society, listing the whereabouts of a 100 Burmese missionaries:
Rev and Mrs Paul Hackett and their son Earl, Balasore, Bengal,
Mr and Mrs Wm Hackett, Cape Town.
January 1943 The Revered Paul Hackett dies in Hanumakonda, India.
1943 Back in the USA, Bill lands a pastorate in Franconia, New Hampshire, Bill serves two churches in Franconia and Easton.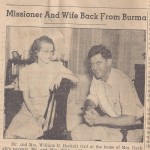 1943 – 1945 Bill enrolls at Cornell University where he studies agriculture and begins to pursue a Doctorate in sociology. They welcome two children Martha Jane and William Shaw.
Post WWI
Nov 1945 As the war wound down, Bill was anxious to return to the mission field and he became one of the first missionaries to return to Burma arriving by following the troops reconquering the land. Because of this he was able to get a jeep and trucks for his work, one of these trucks is still in use by our fellow evangelists in the field. He immediately plunged into his work in Taunggyi.  It was at this time he developed the concept of a rural Christian center to minister to the Pa-Os to include religious training, develop a health clinic, a school, and set up an experimental farm. He developed a 5 year plan to accomplish this and made plans to locate it in Pang T Kwa, a small Pa-O village outside of Taungggyi.  He served there for the rest of his time in Burma.  While there he trained many workers in evangelism and rural concerns (farming, etc.) He would introduce new strains of pigs and chickens to the area to make the area people more self sufficient. Besides his work at Pang-T-Kwahe was a agricultural and rural church consultant and taught seminary classes. He was fluent in six languages and worked among nine different ethnic groups. With E.E. Sowards he founded the Southern Shan States Bible School (now a seminary)
Dec 24, 1946 Marion sails for Burma with her children, this journey to join husband and father takes almost 2 months. Marion soon becomes a Missionary in her own right. She helps set up the rural Christian center which ultimately ended up in the Pa-O village of Pang-T-Kwa a few miles south of Taunggyi.  Her main duties were helping set up a medical clinic and a school and tending to women's concerns. She then turns her attention to developing a New Testament in the Pa-O language. As she was well acquainted with the ancient texts of the bible and had a deep knowledge of the languages of those texts, she set out to translate the New Testament. The first book that she worked on was Acts, followed by Ephesians, Philippians, 1st and 2nd Timothy, John, Luke, and  Mark. 
" Now, the trick to this kind of work is to hold all three languages in your mind at once; Greek, English and the target language, in my case Pa-o. I never got quite that good; the three were seldom simultaneously in my mind, but they chased each other rather briskly." Marion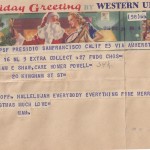 1947 Bill is ordained in Burma
1948 Burma becomes independent
1949 Civil War begins in Burma
1952-1953 Furlough in Ithaca, NY, Marion studies at Cornell, while Bill completes his PhD, and is elected to Phi Kappa Phi. It was a comprehensive evaluation and survey of the history of the Taungthus entitled "The Pa-Oh People of the Shan State, Union of Burma: A Sociological and Ethnographic Study of the Pa-Oh (Taungthu) People". It ran over 1400 pages and gained the attention of the US State Department as they were beginning an interest in SE Asia.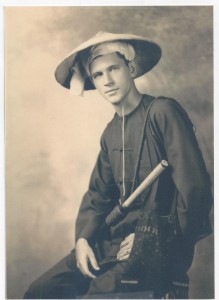 October 1953 Bill, Marion return to Burma with their children. Life settles down and the work grows.
1961 Marion Shaw Hackett becomes the first woman ordained in Burma.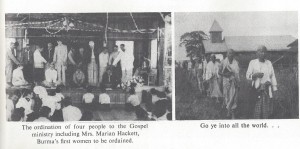 1966 The Union of Burma decreed all foreigners must leave Burma within six weeks. By October 1966 all the Hacketts would leave Burma once again. Not wanting to move far from his field, Bill and Marion moved to Hong Kong. Bill taught at Chun Chi University for seven years, and then at Hong Kong Baptist College where he was chair of the Sociology department, Bill would remain in Hong Kong until 1980.  While there he made numerous trips back to Burma staying as long as the government allowed. On those trips he would bring supplies that his people requested.e.g.  strings for musical instruments,plows, parts for tractors and trucks, educational supplies, medicines, and funds.  He also spent hours meeting with his workers planning and creating new areas of work. He made frequent trips often for only one day.  Many Burmese fled to Macau during these times, so Bill began work in Macau as well. As Marion had always been in frail health she returned once more to her parents home in MA. Their daughter Martha Jane was in nursing school in the USA and Bill Jr was in the peace corp in Micronesia.
1980 Bill suffered a severe heart attack and had to return to the USA for open heart surgery. He then became an associate pastor for missions at University  Heights Baptist Church in Springfield, MO.  He continued to return to Burma as often as he could, usually accompanied by his daughter Martha Jane.
1988 Springfield MO, The Reverend Marion Shaw Hackett dies. Marion was not as able to continue as she would have liked  and was not able to complete her translation work.  However the seeds for a translation of the New Testament had been sown and the work was continued at a slower pace. The Pa-O New Testament was finally printed in 2011 but she was notable to enjoy that achievement as she died in 1988.  A Pa-O hymnal was published in 2008 and work is in progress in translating the Old Testament at this time.  Her work was carried on by her daughter, Martha Jane, in the years after her death and they have left a lasting legacy for the Pa-Os.
1990 Bill makes his last trip to Burma with his daughter Martha Jane. In failing health, he sensed that he would not be returning again and the last trip was for him to say his farewells.  Several weeks after returning from that trip, he died, fittingly, on the steps of a church that he was going to to give a report on his last trip.  His death left a  big gap in the Pa-O Christian community.  The Hackett Mission torch was passed to his daughter Martha Jane and his brother Dr Earl Hackett. The work continues   by his brother's family to this day.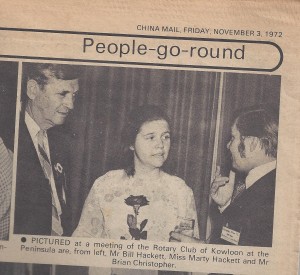 The Torch is Passed
"Ma Ma Martha Jane"
Martha Jane (Marty) Hackett, April 23, 1943 – March 1, 2012
Daughter of Reverend Marion Shaw Hackett and the Reverend Doctor William Hackett. Martha Jane was the oldest of 16 grand children of American Baptist missionaries to Burma, Reverend Paul and Martha Jane Hackett. Marty lived in Burma from age 3-13, when she returned to the US to complete her schooling. After high school she attended Newton Wellesley School of Nursing and continued in her profession to become a nurse midwife. She proudly reported that she had delivered a thousand babies. She spent 3 years immersed in this work in Hong Kong where she would learn Cantonese and subsequently helped to start and build the women's health department at South Cove Community Health Center in Boston's Chinese American community over 30 years ago. Marty was one of the first certified nurse-midwives in the Commonwealth to receive prescription-writing privileges and was recognized for her individual contribution for enhancing maternal and child health by The National Perinatal Association. The Massachusetts affiliate of the American College of Nurse Midwives recently honored her not only with their Midwifery Achievement Award but renamed it the Marty Hackett CNM Heart of Midwifery Award. Action for Boston Community Development (ABCD) awarded her their Health Services Award for her extraordinary contributions to the field of health services, delivering compassionate, culturally relevant care to women and families of the greater Boston area for over 30 years. Martha Jane was a devoted member of Old Cambridge Baptist Church in Cambridge and faithfully served that community for 45 years in many ways, as a deacon, vice moderator, leader of the healing group and pastoral care. She delighted singing in the choir. She was an active leader in the Stillman Association of The American Baptist Churches of Massachusetts. She retained her ability to communicate in the Burmese language throughout her life just as she continued her family's commitment of love and support to Christians in Burma. "Ma Ma Martha Jane" made biannual visits to her brothers and sisters in Burma.
While Martha Jane was a very strong voice for justice and mercy at every level, she was a particularly strong defender of racial and gender justice and strongly advocated that congregations be open, welcoming and affirming of both gay and straight clergy and laity. She was a mentor and "midwife" for dozens of people who were called to pursue ordination to Christian ministry.
Knowing her physical life was coming to an end she guided her cousins to established The Hackett Mission Legacy. To provide continued spiritual and financial support for the Gyi Daw, Daw Nge Orphanage & Old People's Home, The Shan States Seminary in Taunggyi, and the Pa-o Christian churches and home mission.