To celebrate the 100 year anniversary of our grandfather's mission and the 200 years of the Adoniram Judson mission, 10 family members plus 1 very close friend traveled to Burma for 4 weeks. For 6 of them this was a first trip. The group consisted of Dr Earl Hackett (81 years old), 3 of his daughters Nancy Hackett, Laurie Hackett Saucier, Alicia Hackett Mirizzi, 2 sons in laws, Jim Downing and Doug Mirizzi, niece Lucy Hackett,   nephew and his wife William and Mariana Hackett, plus Kyle Miller. Home in time for Christmas dinner with Ray before he heads to Burma for 5 weeks.
This is Nancy's recap.
Dear Friends,
We were able to visit with quite a few friends (although we did miss some who are in the US or were sick) and find out what what going on. We left a bunch of stuff (medicine, toothbrushes, etc -stuff!) and close to $xx,xxx for building projects, mission fields, medicines, food, firewood, salary supplements, education fees, and more.
Burma has changed a lot since I started coming 14 years ago. The biggest changes have occurred in the last 3 years. Some of it good and some of it not-so-good. The best thing is that there seems to be a better tolerance for religious freedom. There was a time when declaring yourself a Christian would bring on the persecution (or even death). Now we have had many people declare to us that they are Christians (the optometrists, the band…) and talk openly about their faith. It's a wonderful thing. Only a few years ago, there would have been problems at the Judson celebration! 30,000 Christians in one place! Just the possibility of starting a Christian College is a step forward. I pray that this new found tolerance becomes complete acceptance.
A few musings on my travel companions: Dad did great on the trip (except for the early mornings!). He loves it so. As long as he wants to come, we'll help him.  He would tell Laurie that this was his last trip, then he would walk over to me and her and say "The next time we come…" I think that frustrated Laurie a bit; I've heard that from him on the last 7 trips! Laurie doesn't smile very much, but when we would be around kids she would light up. I think she missed her calling. Alicia was fun to travel with – she's smart and witty and thinks a lot like me. She reinforced a lot of my impressions. Doug is a seasoned Asia traveler, although I think Burma was a little different than he expected. Lucy was a pleasure to travel with, easy going and game for anything. We are all so jealous that she can sleep anywhere and anytime. I don't think that Bill wants to come back. He's kind of a homebody and things have changed so much in Burma that it doesn't feel like home anymore. Marianne might change his mind at a future date. She loves to travel and can shop her way through anywhere. I think Kyle was a little disappointed that we weren't more hands-on. He did tell me that he understood that they have the people to do the work, just not the resources to get the work done. He was a great help as the youngster (mule) in the group. And, of course, Jim is my rock. He organizes and takes care of any problems that arise. (All the stuff I'm not good at.) It couldn't have been easy for him with all these Hacketts!
As for the future: I dropped my brother Ray off at the airport yesterday morning. He is more of the hands-on type person, although he tells me that they won't let him do too much when he is there. His plans are to get the foundation and roof built for the Ronald McDonald type house at the clinic in the Pathien area with the hopes of finishing it next year (depends on what funding we can raise). He has an animal health clinic set up with a World Vision animal health expert. Then, he plans on traveling up to the Taunggyi area to meet with the orphanage to try to install some solar lights and drip irrigation out at their farm. He promised he would write and, if he does, I will forward those letters on to you.
Doug and Alicia are going to put together a proposal for a new computer center at the Bible School. (Doug is our family geek – even more so than Jim.) Doug thinks TI has a program that might be helpful on that project. I'll keep you updated on the progress.
The Bible School will be working on their new building for the next 3 years – we'll keep sending them funds until it's done.
Of course, we'll always support the orphanage. There by the grace of God… Hopefully we will have 2 new MJH scholarship recipients this year. Daw  promised she would let me know how the girls do on their entrance exams.
It looks like we will be working more in Kayah State. It was one of Uncle Bill's fields and Marty was doing some work there. She just never involved us. Now, we are involved.
If we can, we will try to help fund the endowment for the Myanmar Christian University. How awesome is that!
We are so proud that the KBC clinic is now a full fledged hospital! Free to anyone that needs help. We are so glad that we were a part of that growth.
The YBC clinic is completely volunteer. We will do what we can to keep it running. They do so much for so little.
I love the Sharing Love program at Ywama Baptist Church. We'll be sending some money to them to continue with this ministry.
I'm sure I've forgotten something.
I'm always inspired by the dedication our friends in Burma have. Their whole lives are centered around sharing the Word. I am humbled by everything they do and the lives they lead. It constantly reminds me how spoiled I am and how completely blessed we are. Thank you for all your donations and prayers. We couldn't do it without you. Merry Christmas and Happy New Year to you all!
Nancy
January 2014  Ray Hackett arrives in Bur
ma
Hello friends, January 10, 2014
Arrived in Pathein to find a burnt up water pump. For some reason the inverters here have a hard time with operating pumps. The inverter has burned up twice and has been rebuilt and enhanced for more power. MM has built me a water pump to operate on 24 volts using a motor from a truck ventilation system and a 1″ pump. 12 volt pumps don't have the power to pull water from the ground to the water tower, so we built our own. The only one like it in the world. I will install it today. The clinic seems to have taken ownership of the project and has added a spigot where they do the cooking. Hopefully we will get a kitchen house built for them, although they want a fence more. I meet tomorrow with the builder to get an estimate for a fence and kitchen house. We paid 10000 kyats for transportation to the village. Today we start the animal care clinics, my mailed package arrived intact, the same day I did. Pauli is having a great time and is putting in a garden at the clinic. He seems to be a natural missionary and is proving to be an asset. Ray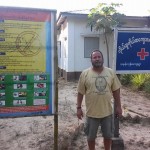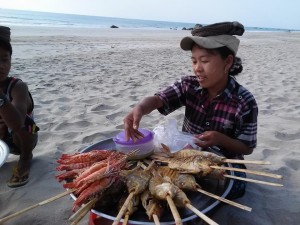 Took the overnight bus to  Taunggyi.  Arrived at 5am, and it is freezing here in the Mountains.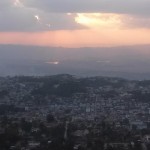 Need some breakfast!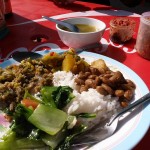 Went to the Orphanage today and met the kids. Visited some amazing Buddhist Temple's in the mountains. Going tomorrow to put in drip irrigation, solar power and plant some seeds….