2014
Merry Christmas everyone!
Although we have not been to Burma since Ray returned December 2013, we have been busy.
Our friend, Maung Maung Yin was in KC in October. Dad and I were able to visit with him and arranged for him to bring some money back to Burma with him. Remember the "Sharing Love Program" at YBC that took kids from the streets, fed them, taught them hygiene, reading, the love of Christ, how to be a kid, and helped their parents (if they had any) with survival? We sent them enough to run the program for a year. They have since expanded the program and are now running that program in 2 different places. God bless them – it's not easy . We were also able to send some money to the YBC free clinic. They are only open 2 days a week due to a problem finding enough doctors to volunteer. But they are busy, busy, busy those 2 days. We also sent money to the Kayah Association to help support the staff at their school, to help support their missionaries, to help improve the library at their school, and for health programs at their orphanage. We are hoping to be able to travel to Kayah State on our next trip in Jan 2016. We also sent some money for the endowment fund for the Hackett Scholarship Fund at LBC. The fund only uses the interest and averages 2 students a year at this time.
In early December we sent money to the Paoh Association, the Orphanage in Taunggyi, and SSBTS. The money is for them to use as they need. SSBTS finally received the permits for their building project. They are supposed to have the building done by the end of 2015! I pray they will have all the money they need and good weather! We were able to send them some money and will try to send them some more in the summer. We hope to be there for the building dedication in Jan 2016. Once that building is done, we will start to work on the computer center! We were thankful that our friends at Friends of Burma were able to transfer the money for us.
While Ray was in Burma last January, Daw Mya Shwe at the orphanage asked him for some children's books so the children could practice their English. We held a book drive in November and collected over 1,000 books! We are now in the process of sending them to the orphanage – 20 lbs at a time. About $100 each shipment!
Ray is getting ready to leave for Burma in a week. He plans on carrying in about 40 lbs of the books. (I worry about his back.) He is hoping to finish the irrigation project for the orphanage farm, install solar panels in the study hall at the orphanage in Taunggyi, and finish the fence at the free clinic in the Pathein area. He will also see if there are any other free clinics that may need some help. We will send some more money for the orphanage in Taunggyi (kids are expensive!) and money to buy a truck for the orphanage farm. If I get any emails from Ray (doubtful) I will forward them to you. Please keep him in your prayers as he travels.
We have so much to be thankful for and I am happy that we can help, in some small way, the people in Burma!
God bless you all and peace to you and yours! Nancy
Not Next Year Every Year 2015     Ray
12/31/14
Heading to Burma after Christmas to put drip irrigation at the orphanage farm, finish the clinic in AnonGyone Village, and if I can afford it, solar lighting for the orphanage. I will also do animal care clinics in the villages I visit, worming pigs and cattle. Thanks to everyone who gave us childrens books for the kids. Learning English will give them a huge advantage in the emerging democracy. If anyone would like to help with the trip, please go to the family website thehackettmissionlegacy.org. to find out how to help. This trip is to restock the clinic and fix any problems they have, and then on to the orphanage to help set up the farm with drip irrigation. I also have a lot of seeds with me, compliments of Paul Allen, and want to help get things planted. It didn't seem that they had much more than fish farming going on, and I want to get veggies planted to help feed the kids. I am also going to buy a truck for the orphanage farm, compliments of my dad, my sister Laurie and the Hackett Legacy Fund. Perhaps the best,but emotionally hardest part of the trip, will be spent at the orphanage teaching English to the kids. I brought in some flash cards and the kids will teach me Burmese while I teach them English. That is going to be fun.
Thanks everyone, and please pray for a successful trip for me.
Made it to Bangkok. Can't access my email because of Google security issues so I don't know if I have a visa yet or not.. I'll find out when I get there. I also can't access wifi from my computer, issues with the firewall which I turned off, but still won't work.
Made it to Pathein, 4 and a half hours to go 120 kilometers. Every time the driver took his foot off the gas the bus would die. God is smiling on me today as I made it to the bus station with 5 minutes to spare, and only one seat left. Just had fried cashews with Arjun. You hear me Pauli? I said fried cashews, after having morning glory red light last night. For the uninitiated, morning glory red light is morning glory vines sauteed with a few hot Thai peppers in duck sauce with a few cloves of garlic thrown in for good measure. As I have morning glory growing wild on the farm I am going to bring this culinary delight to America. I can't imagine how much fun it will be to make money off of weeds.
Good night everyone.
Finishing up at the clinic. Mice ate through the wiring causing a short, which burned up the expensive inverter, which had to be replaced. Rewired the building and put all the wires in conduit so this doesn't happen again. Arjun's friend, an electrician helped out. $15 for two men for the day. He saw a cobra in the road on his way out so I may never get him back out there. It was all I could do to go back out there myself! The 24 volt water pump and the float valve are working beautifully. Unfortunately they have taken the top off of the tower so there are fish and mosquito larvae living in the clean water. Three of the four batteries powering the clinic are dead, they planted banana trees around the panels which shades them most of the day. DUH! I hope they will recharge now that I cut the trees back. I started to disassemble the water tower to move it to Taunggyi, and put in a hand pump, But I will give them one more year before I do that.
I am headed to Yangon tomorrow to buy a truck for the orphanage. Arjun only has a motorcycle endorsement so I am having to hire a driver. We will work on Arjun getting his license. Then we can head to the orphanage, I am really excited about driving cross country.
1/07/15 Happy Birthday to my mom. Thanks for putting me on earth and giving me the teaching that allows me to do this. Daw Mya Shwe thinks you are a remarkable woman for raising such caring kids. If she only knew. I love you mom!
Traveled about 300 miles today, it only took 10 hours. I bought a mattress for the back of the truck and had the best seat in the house. Arjun thought I should ride in the front but the vehicle is made for Asians and the seat has the legroom of a Delta seat. I was very comfortable. We are at an amazing hotel in the capital of the country. Tomorrow will be different as we head into the hills to find a family friend Eddie Loo. Eddie Loo has been a Hackett family friend for over 60 years, he was a student of our Uncle Bill. Uncle Bill trained him as a pastor and now his wife is pastor of the Baptist church. Eddie had a stroke and I want to see if he is okay. Then it is on to Taunggyi and the orphanage, we will stop and visit Melanie on our way through Inle Lake. The truck gets about 60 kph, it runs very well and seems solid.
Everything at the clinic is working again. I guess I will have to move here in order to insure they continue to work. I bought a truck to use while here and leave with the orphanage when I am not. I have had it for two days and can't begin to express how much difference it makes in what I am doing. I can't thank my dad and Robert enough for partnering with me on this. On the way to the orphanage, will be there tomorrow.
The trip today, while a good plan, was conceived in ignorance. 118 miles, how long can that take, right? 5 hours and 60 miles later, 58 miles to go, I had to change course and head north to Taunggyi. It would have been well past dark, in a village with no quarters for foreigners. We made it to Taunggyi right at dark. I am at the Empire Hotel, used to be two dollars and nicer, now twenty. There is a drug resistant malaria outbreak in the Shan, Kayah, and Rakhine states, I am right in the middle of it. Arjun got Dengue fever shortly after returning from here last year. Thinks he got it here. As it is cold in the evening and early morning, I will be bundled up, so mosquitoes may not be a problem. We were flagged over by the police at least 3 times today and not once did they look at my passport. They sure checked out my boys though. Long day today.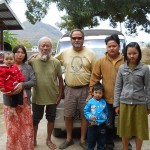 Found Eddie Loo today. I asked Daw Mya Shwe if she knew him. In 1952 she was a teacher at the Sunshine school, a private high school. One of her students was Eddie. I told her he was in Loikaw, where Bella's family lives. Bella's 102 year old father, one of two living WW2 vets who fought for the British, was head of the Kayah State. One of his best friends, Eddie Loo. So Wingate, Bella, Daw Mya Shwe, Maya, Ricky and Arjun climbed into the truck at 7:30 last night and made it 130 miles and 6.5 hours later, to Loikaw at 2:30 am. The streets were jammed as it is Kayah Day today. We stayed at Bella's folks house and found Eddie Loo this morning. He was very surprised to see me and we had a nice three hour visit. He drags his right foot and is blind in his left eye, but otherwise doing well.
Five months ago Wingate fell out of a tree and skewered himself on a sharp staub just below his right arm. It punctured a lung and his liver and he spent 2.5 months in the hospital. He is still a little weak. He is from a village of spirit worshipers and was born on a Saturday and his mother died in childbirth. One of the superstitions of his village was that if a child is born on Saturday, and the mother dies, it brings bad luck to the village. To thwart the demons the baby must be cut into 7 pieces and 1 piece burned each day. His father couldn't do that so he brought Wingate to Daw Mya Shwe and she adopted him. He has a bachelors degree in English, and is a Hindu. He runs the orphanage farm where I have been living the past few days. We have the water tower and plumbing for the drip completed and will finish the solar tomorrow. I talked to them about putting solar at the orphanage, but I got the feeling that they need the money more than they need the solar. The monthly utility bill is manageable, the school costs for 101 kids is not. My sister Susie's money was a big help as some of the kids did not have winter coats. There are 130 kids at the orphanage at this time. I had a great time with the kids having them teach me Burmese. They are learning English, I am learning their language. I am constantly amazed by how well behaved these kids are and how eager they are to help. I was washing my dish the other day and one of the kids gently shoved me aside and completed my chores for me. Can any of you parents out there remember that ever happening? One of the things that bothers me on these trips is that they don't let me work. They constantly take tools out of my hands and insist I just supervise. Staying with them, and total immersion in their culture is becoming easier.
The water system at the farm is working and seems to work well. We filled the 150 gallon water tank in 30 minutes. Not bad for a homemade 24 volt pump. Wingate tied all the water system into it. It is such a pleasure working with Wingate and the kids at the farm. Yesterday a group of businessmen in Taunggyi visited the orphanage to give their monthly contribution. They are Sikhs, Hindus, Muslims and Buddhists and every weekend they go around doing good deeds. They invited me to go with them today as they went to an orphanage to cook for and feed the kids. I would have loved to go with them but had already committed to speaking at the English speaking church service started by my Uncle Bill in 1952. I am going to visit one of their farms tomorrow. They offered to help me with my projects but I told them the orphanage needs more help than I do. Staying at the orphanage tonight. They have made this a very special trip for me. Wingate and I sat up last night and had a great discussion, Daw Mya Shwe knows everything.
There are now 120 Avocado trees planted at the orphanage farm. I wanted to get fruit trees but there aren't enough cold days for apples, cherries, pears,etc. to set fruit. The food raised on the farm is sold to help defray the education costs of 101 children. Daw Mya Shwe is in crisis mode now trying to find funding for the remainder of the school year, which is the end of February. If anyone has any spare change they want to get rid of, PLEASE send it to my sister Nancy to forward here. Her information is at www.thehackettmissionlegacy.org. They are a 501(c)3 charitable organization so your contributions are deductible
I put Arjun on the bus today. He has to get back to his real job. I am on my own for translating as Wingate hasn't used his English enough to be proficient. Daw Mya Shwe's English is very good, but I can't drag her everywhere I go. I do pretty well on my own. Wingate says he is very impressed by how quickly I can follow a conversation in Burmese, I think eventually I will be able to speak it.
Staying at the orphanage I have gotten a lot of opportunity to visit with Daw Mya Shwe. The story of the orphanage is amazing, and I have to share it. Her parents moved to Taunggyi in 1902 to a piece of property by a lake fed by a stream. The property was 330 ft by 220 ft. Upstream from the property was an orphan camp, where orphans camped together on the bank of the stream. One night tigers came out of the jungle to catch fish in the stream. The orphans were frightened and ran to Daw's fathers house. He took them in and added them to his family which eventually came to be 6 girls and 4 boys. All of his daughters and one son became teachers. In 1952 Daw and two of her sisters built the house that is now the orphanage. When I say built the house I don't mean they paid to have it built, they did the construction themselves. It took them 7 years as they could only work when money allowed them to buy materials. The villagers all laughed at these crazy girls as they hauled bricks and mixed mortar. The house is beautiful and in very good shape. She has since had to sell off some of the property to keep the orphanage operating, it is now about 60 ft by 220 ft. The three sisters ran the orphanage. It is now only AhMoe (grandmother) as everyone calls her, and she is truly a grandmother to all the kids.
Working with the kids is very emotional for me as the only disappointment in my life is that I have no children of my own. I have held it together very well until today when Wingate was telling me the horrific stories of the lives of the boys at the farm I have been working and living with. Then he said there are times when he gets mad and frustrated because, like most good parents, he wants to improve the lives of his own children and isn't able to because he receives no pay for his work. AhMoe has told him to go, God will provide for her as He always has. But these children have no parents, and call him Daddy, and he could never leave them. He refers to all 130 as his sons or daughters, and loves them all equally. I am humbled by these wonderful people. How can I not do everything I can for them and still call myself a Christian man?
Next years projects will be the most challenging yet. There is a village called Mochi, about 130 miles east of Taunggyi that has a very poor clinic. While I was learning from the kids, Arjun interviewed a family that had just traveled in for medical treatment and, being poor, were spending the night at the orphanage. There is another village nearby, Lokalla, that needs water. Now they carry water 45 minutes from the river, They also have no school. These are Karen villages ! These are villages where Bella, Wingates wife, comes from. Her uncle is pastor of the church in Lokalla, which needs renovating. And my clinic in AnonGyone will need something, as it always does.
For the first time in the 8-9 trips I have made to Burma, I am not ready to leave. This has been the most amazing of the trips due to me staying at the orphanage and the farm. I am sure that my hosts are ready to see me go, they have gone through a lot of trouble despite my pleas not to. Thats just the way it is here, the people give you everything they have, even if it is not much. The orphanage gave me two violins to sell for them. One is a Maestro violin, a copy of a Joseph Guarnerious. The other is a genuine Joseph Guarnieras. I just found out on google that Stadivarious and Guarnierias are considered the two best violin makers with many of the top violinists preferring the Guarnerious. It is in rough shape but may be very valuable. If anybody knows anything about violins and the restoration of them, let me know.
Bangkok in the morning and then out to the US on the 29th.
Mark Twain once wrote, "There are only two important days in your life. The day you are born, and the day you find out why." I was born August 7, 1956, and I found out why on January 28, 2002. That is the day I first met Daw Mya Shwe and her sisters, and the kids at the orphanage, and for the first time realized what it means to be part of a family that is committed to something. My family has been committed to helping the people of Burma for over 100 years. It took me another 4 years to make that commitment myself, I didn't want to start something I couldn't finish. I still thought I could find happiness outside of myself. I wish I had made that commitment earlier in life instead of running from it. My prayer for all of you is that, if you haven't had that day, that you recognize it when it happens, and that you act on it. I think it must have been God's plan for me when I passed out after being baptized when I was twelve. My mom told me many years later that God won't let me settle down and find happiness until I answer his call. I think I have been in training for this my entire life, and it is easy for me.
I wouldn't be able to do this without the financial help I receive from other people, I chose a path that doesn't pay very well. Three people who have helped me every time I ask are Tracy Rosen, a friend I met at jazz fest, Ricky Meyer, a friend from high school, and Jeff Aucoin, a driftwood carver extraordinaire, Viet Nam veteran, and good Christian man. My incredible family has stepped up, my sister Susie taking up the baking for the farmers market and donating her proceeds half to the orphanage, half to my projects, as well as taking wonderful care of the farm while I am gone. My dad and thehackettmissionlegacy.org have stepped up, rounding out the funding that I fall short on, and my sister Laurie who gets support drummed up through her church and friends. Paul Allen contributed seeds for the orphanage farm.
This year we completed the compound fence at the clinic as well as upgraded their water system to a fully automatic system that requires them to do nothing. Next year I hope to finish a kitchen house for them. We also bought a truck for the orphanage, put in a solar water system for both the house and the drip irrigation we installed, planted some vegetables and Avocado trees, and replanted some rose bushes they hope to make money from. The orphanage gets a lot of help with food and clothes, but are always getting fleeced by the schools for money. The children are not allowed to bring water from home and all must pay to buy water. It costs 500 kyuts for a five gallon jug, but they collect 500 kyuts a week from each student to cover this, from 40 students in the class, 20,000 kyuts. The teachers keep the excess to supplement their pay. They also require the older kids taking tests to pay for tutoring, a sure failing grade if they don't, a passing grade if they do. 65,000 kyuts per month, per student. One teacher decided the kids all had to have new sandals in order to attend class. 15 kids from the orphanage in her class. . We are sending in books to help them learn English, at a cost of almost $100 a box, we have sent 7 boxes so far and have that many more to go. There are 101 kids from the orphanage in school from K- the university, and they all want to learn. Some of the older kids have taken up sewing to help pay for their schooling, and I brought a lot of stuff from them back with me to sell at my farmers markets.
January 2015, FYI: 1,000 kyats = $1 (approximately)
Thanks again, and God bless you all! Ray