First Generation of Hacketts in Burma
Paul Richmond Hackett and Martha Jane Lewis Hackett
1909 – 1911 While a student at Drury College in Springfield, MO, Paul Richmond Hackett served as assistant Pastor at First Baptist Church of Springfield where he was the director of Missions. He preached at many of the county churches and performed weddings at First Baptist Church.
1911 – 1913 Paul went to work at the Y.M.C.A. In St. Joseph, MO where he met and courted Martha Jane "Mattie" Lewis.
May
12, 1913 Paul Hackett applies to the American Baptist Missionary Union and on his application asks to be sent to India.
July 15, 1913 Paul is appointed to the American Baptist Mission Press in Rangoon, India (Burma).
August 28, 1913 Paul marries Mattie.
September 23, 1913 Paul and Mattie sail for their new life in Burma, where they would spend thirty years.
Rangoon
1913 – 1919 Reverend Hackett took his new post in Rangoon as a printer and head of the American Mission Press.  During the six years in Rangoon they welcomed two of four sons, William and Herbert.
1919 The family of four returned for the first time to Springfield, MO.
May 1920 Reverend Hackett graduates from Drury College in Springfield, MO.
Thayetmyo to Moulmein   (Mawlamyine)
1921 Paul, Mattie and the two boys return to Burma and were stationed in Thayetmyo, on the Irrawaddy River.
1923 Reverend Hackett  was appointed Superintendent of Judson School, a school for boys K through high school.  They moved to their permanent  home in Moulmein. Paul also served as Superintendent of the Leper Hospital in  Moulmein,  Pastor of Ebenezer Baptist Church and worked in the local prison. Mrs. Hackett oversaw the local orphanage. Their family grew by two more sons, Paul and Earl.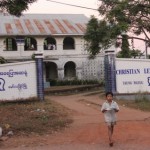 January 22, 1942 "We are leaving Moulmein, it is heartbreaking to leave our home and the work we love" Mattie writes in her diary. They would sail for India as WWII swept through Burma.
January 1943 In Hanumakonda, India, the Reverend Paul Hackett dies. After her husband's death, Mattie returned  to Springfield, MO with her youngest son, Earl.
Paul and Martha Jane had four sons, Dr. William D. Hackett (1915- 1990), Dr. Herbert L. Hackett (1917-1964), Dr. Paul R. Hackett (1926-1972), Dr. Earl R. Hackett (1932-) and sixteen grand children.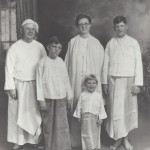 The Second Generation
The Revered, Dr. William. Hackett and the Reverend Marion Shaw Hackett.
William Dunn Hackett was born in Rangoon, India (Burma). He attended the mission school until he was 14, then came to the United States where he finished his secondary education in Granville, Ohio. He graduated from Drury College in Springfield, MO in 1936. After graduation, he spent one year as Superintendent of Schools in Greenfield, MO.
Marian Shaw (1916-1988) was born in Springfield, MA and grew up in Belchertown, MA. After graduating from Northfield Seminary she went to the University of Massachusetts in Amherst. Following this she went to the Kennedy School of Religion at the Hartford Seminary where she did post-graduate work in Latin, linguistics, German, and New Testament Greek.
Pre WWII
1937 While his parents were on furlough, Bill returned to Burma to "fill-in" for his father as Principal of Judson Boys School in Moulmein. While there, a delegation of Christians from the Taungthus (now called Pa-O) beseeched him to be a missionary to them.  He felt that he was not qualified at that time to serve them, so he begged off so that he could return to the United  States to further his education. He vowed to return to serve the Pa-o. Back in the states he enrolled at the Kennedy School of Missions at the Hartford Seminary where he met Marion.
December 1940 Bill and Marion are married.
1941 Bill receives his MA degree, Cum Laude, from Hartford Seminary. Bill and Marion are appointed by the American Foreign Mission Society to Burma.
September 1941 Bill and Marion sail for Burma to meet Bill's family. After Marion gets to know her in-laws, they traveled up country to begin their life together as missionaries.
December 1941 Bill and Marion arrive in Taunggyi, (Shan State), with WWII raging and the invasion of Burma on the horizon.  Their stay in Taunggyi is short lived.
January 1942 Japan invades Southern Burma.  Bill becomes an ambulance driver with the Flying Tigers and for Dr. Gordon Seagrave's refugee hospital.
January 13, 1942 Earl Hackett (9 years old) is evacuated to India.
January 22 Paul and Mattie Hackett are evacuated to India.
April 1942 Bill and Marion are evacuated to  Kunming, China.
1943 – 1945 Bill enrolls at Cornell University where he studies agriculture and begins to pursue a Doctorate in sociology. Bill and Marion welcome two children, Martha Jane and William Shaw.
Post WWII
November 1945 Bill returns as one of the first missionaries to return to Burma, following the troops reconquering the land. He immediately plunged into his work in Taunggyi.
December 24, 1946 Marion sails for Burma, with her children, to join Bill.
1945 – 1951 It was during this time Bill developed the concept of a rural Christian Center to minister to the Pa-Os which religious training, a health clinic, a school, and an experimental farm. It was located in Pang-T-Kwa, a small Pa-O village outside of Taunggyi. He served there for the remainder of his time in Burma.  While there he trained many workers in evangelism and rural concerns (i.e. farming). He would introduce new strains of pigs, chickens and crops to the area to help the Pa-O people become more self sufficient. Bill also was an agricultural and rural church consultant and taught seminary classes. He worked among nine different ethnic groups. With E.E. Sowards he founded the Southern Shan States Bible School (now a seminary).
Marion became a Missionary in her own right. She helped Bill set up the rural Christian Center medical clinic and school and tended to women's concerns. She then turned her attention to translating the New Testament in the Pa-O language.
" Now, the trick to this kind of work is to hold all three languages in your mind at once; Greek, English and the target language, in my case Pa-o. I never got quite that good; the three were seldom simultaneously in my mind, but they chased each other rather briskly." Marion wrote to her parents.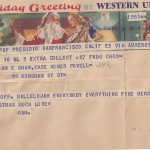 1947 Bill is ordained in Burma.
1948 Burma becomes independent from India.
1949 Civil War begins in Burma.
1952-1953 Furlough in Ithaca, NY. Marion studies at Cornell, while Bill completes his PhD. His dissertation was a comprehensive evaluation and survey of the history of the Taungthus entitled "The Pa-Oh People of the Shan State, Union of Burma: A Sociological and Ethnographic Study of the Pa-Oh (Taungthu) People". It ran over 1400 pages and gained the attention of the US State Department as they were beginning to have an interest in Southeast Asia.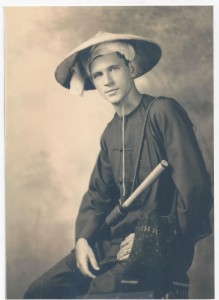 October 1953 Bill and Marion return to Burma with their children. Life settles down and the work grows.
1961 Marion Shaw Hackett becomes the first woman ordained in Burma.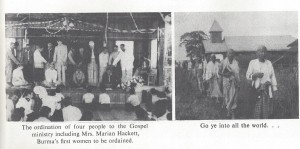 1966 The Union of Burma decreed all foreigners must leave Burma within six weeks. By October 1966 all the Hacketts would leave Burma once again. Not wanting to move far from his field, Bill and Marion moved to Hong Kong. Bill taught at Chun Chi University for seven years, and then at Hong Kong Baptist College where he was chair of the Sociology department. While in Hong Kong, Bill made numerous trips back to Burma, staying as long as the Burmese government allowed. On those trips he would bring supplies that his people requested – strings for musical instruments, plows, parts for tractors and trucks, educational supplies, medicines, and funds.  He also spent hours meeting with his workers planning and creating new areas of work. As Marion had always been in frail health, she returned to her parents home in Massachusetts. Their daughter Martha Jane was in nursing school in the USA and son William was in the peace corp in Micronesia.
1980  Bill suffered a severe heart attack and had to return to the USA for open heart surgery. He then became an associate pastor for missions at University  Heights Baptist Church in Springfield, MO.  He continued to return to Burma as often as he could, usually accompanied by his daughter Martha Jane.
1988 The Reverend Marion Shaw Hackett dies in Springfield, MO. Marion was not able to complete her translation work.  However, the translation work continued and the Pa-O New Testament was finally printed in 2011. A Pa-O hymnal was published in 2008 and work is in progress to translate the Old Testament at this time.
1990 Bill makes his last trip to Burma with his daughter Martha Jane. In failing health, he sensed that he would not be returning again and the last trip was for him to say his farewells.  Several weeks after returning from that trip, Bill died. His death left a  big gap in the Pa-O Christian community.  The Hackett Mission torch was passed to his daughter Martha Jane and his brother Dr. Earl Hackett, who continued to make trips to Burma for almost twenty-five years.. The work continues to this day by Earl's family.
Dr. Earl Richmond Hackett
Earl was born in Moulmein, Burma February 16, 1932. He attended the same mission school that his three older brothers attended until he was evacuated to India during WWII. Earl graduated from Drury College in 1953 and from Case Western Reserve University Medical School where he specialized in Neurology.
He spent the next thirty years at LSU Medical School where he became the chair of the Neurology Department. In New Orleans, Earl and his wife Shirley raised seven children. Earl and Shirley returned to Springfield, MO after retirement. After Bill died in 1990, Earl returned to Burma for the first time with his niece Martha Jane. He continued those trips until health problems made the trip in 2013, the 100th anniversary of the start of the Hackett work in Burma, his last. Earl continues to work for the mission by selling Amish honey and preserves at farmer's markets around Springfield.
Third Generation
Martha Jane (Marty) Hackett
Marty was the oldest child of Bill and Marion Hackett. She spent her formative years (age 3 – 13) in Burma with the Pa-O people. She always proclaimed to be Pa-O. Marty completed her high school years in Massachusetts while living with her maternal grand parents. She attended Newton Wellesley School of nursing and became a nurse-midwife with the goal of returning to Burma to work with the Pa-O. Unfortunately, that was the time that the Burmese government expelled all foreigners. Instead, Marty spent three years immersed in her work in Hong Kong where she would learn Cantonese and subsequently help start and build the women's health department at South Cove Community Health Center in Boston's Chinese American community. Marty was one of the first certified nurse-midwives in the Commonwealth to receive prescription-writing privileges and was recognized for her individual contribution for enhancing maternal and child health by The National Perinatal Association. After her father Bill's heart attack, Marty began accompanying him on his trips to Burma, later traveling with Uncle Earl and her cousins. Knowing her physical life was coming to an end she worked with her cousin Nancy to established The Hackett Mission Legacy, Inc. to provide continued spiritual and financial support for the Daw Gyi, Daw Nge Orphanage & Old People's Home, the Shan States Seminary in Taunggyi, and the Pa-O Christian Association. Marty died March 12, 2012. She is sorely missed.